We have added a 2nd class on June 10th because our first class is already Sold Out.
Reserve Your Space Now for
ADR and Looping Voice Over Class on
June 10th!!, 2:30pm-6:30pm
Cost is only $249.50.00 and includes materials and MP3's of all your reads
Want to be part of the VO team at The legendary Marc Graue Voice Over Studios?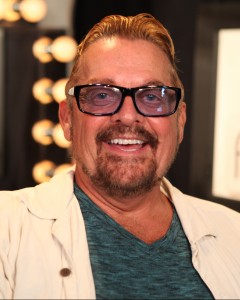 In the past few months we've cast for over 40 video game characters, 18 audiobooks plus numerous cartoons and video games!
We always look forward to our voice over classes, as they are a great opportunity for us to hear new voices and see how people work.
The vo classes are also a great opportunity for both beginners and working pros to hear different approaches to the craft of voice over and meet new people.
The best Los Angeles voice over class is now available at our Burbank Voice Over Recording Studio. This is your opportunity to learn from voice coach Marc Graue at the legendary Marc Graue Voice Over Recording Studios. Our voice over classes cover commercial, cartoon, video game and narration voice over. With our voice over workshop in Burbank you'll get training with ISDN plus ADR for commercials, cartoons and video games. This one day voice over workshop is a realistic look at the voiceover business and what you need to do to make a living as a voice over artist.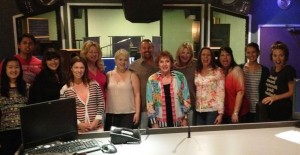 Marc can be heard daily on the National Geographic Channel series "Alaska State Troopers", CNN promos for "Anderson Cooper 360º" and "Planet in Peril" and as the voice of McDonald's, Hershey's, Miller Beer, DiGiornio Pizza and on numerous animated series and video games.
This gives Marc a unique perspective and insight into both the client and talent aspects of today's voiceover industry.
There are many voice over classes in Los Angeles and the Valley, but this voice over seminar is taught by professionals who do this every day for a living. Our voice over workshops cover all aspects of the voice over business.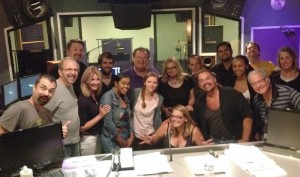 Commercials, Promos, Narration & Cartoons
Getting the Callback/Booking the Job
Lots of mic time and direction
Where to submit your demo
How to get an L.A. agent
Marketing yourself
Auditioning tricks
ISDN Sessions
ADR
"Went to the last Saturday Voice Over workshop in Burbank and DAMN! I kick myself in the butt for waiting so long to take advantage of this outstanding opportunity…If you are into VO work you must join in one of these sessions…It is the real deal…You will learn…You will partiicpate…You will enjoy the entire class…One of the best days of my long life, without a doubt…"
"Just wanted to drop you a line to say thank you so much for all your help and great advice at last weekend's voice over class. Also to share with you the great news that I met with Heather last week, and pending a meeting that she has deemed a matter of formality with her colleagues on Monday that Atlas will be representing me for further voice-over work in the US. I'm so pleased!"
"I just wanted to let you know that after you produced my promo demo, SBV (Sutton, Barth and Vennari) decided to give me a shot. They are a great agency and I'm very happy. Thanks Marc, I'll let you know when I start making "stupid" money!!"
"I had the privilege of attending one of your Saturday voice over workshops, and then having you produce my Promo/Trailer Demo. Well just a few days ago, I had the honor of recording for Disney on a new project. I'm writing to say thanks for the input you have on so many lives – including mine. Thanks again for your input into my career"
"Thanks to your advice and your voice over class I've just landed my first Agent and within the first hour had my first audition emailed to me. Though it's only been 3 days since your class, I firmly placed one foot in front of the other and just did what you said to do. Thank you Marc Graue!"
"Elias just booked his 2nd job for me…thank you for this great guy I met at your class" Arlene Glucksman Jones/AKA Talent Agency
"Thanks for putting together such a great voice over seminar. Yikes what a lot of info to cover in one session! You are a blast. If I was going to brand you as a voice coach, I'd call you the David Lee Roth of voice over demo production!"
"Your voice over workshop was truly invaluable and very enlightening. You're a great voice over coach and I am referring everybody to this voice over seminar!!! I can hardly wait to do my voice over demo with you!"
"I learned more about the voice over business in your one day voice over workshop than in 3 months of voice over classes I've taken."
"Wanted to say how much I enjoyed your voice over classes, and how much I appreciated your no nonsense approach to all the information you blazed through with us. Your voice over demo production is amazing!!"
"Thank you for an awesome VO workshop!! I learned a lot and really enjoyed myself."
"I was fortunate to be with you to record my demo CD when you offered your first voiceover class. Got to meet and visit with Hellboy Ron, too. Today I have clients from California to Mississippi. Everyone loves the CD- thanks again! "
"I had a great time today – your energy and passion is inspiring. Thanks again – it was well worth the money."
"I wanted to thank you for the great workshop. I really enjoyed your style of instruction. I appreciate your sharing the amount of information you shared. It's great to know there's someone who is willing to be honest in this town."
"I have been getting more and more work due to your great demo & tips from your seminar!"
" Thus far, I have attended classes provided by 5 different VO companies...And-Your class is unquestionably the best! Keep up your personal involvement in each class...It keeps me coming back."
"Just wanted to let you know that the Sports Promo Demo you made for me a couple of years ago got me booked by the NHL . No audition. Just booked from the demo via Big Fish Voice Company in Denver. It just dropped into my lap out of the blue! And the pay is amazing!  First session was today and they loved it! Thanks, your Dudeness!"